Healthy Schools


12 Steps to A Healthier School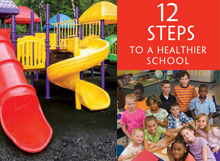 NEW
Press Release
Children spend an enormous amount of their waking hours in the school environment. Children are a vulnerable population due to their small size and unique physiology, and therefore it is important that schools be as environmentally safe as possible. Many of the areas of concern below do not actually cost money to implement, but are simply new ways to look at different situations.
EHHI is embarking on a new project to visit superintendents of Connecticut schools with this new brochure listing 12 ways to make schools healthier environments for students.
---
Healthy Schools


Children's Exposure to Diesel Exhaust on School Buses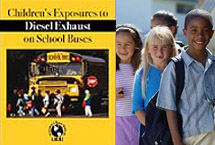 ---
News and Information about School Bus Diesel Exhaust
Diesel Exhaust from School Buses
Most U.S. school buses are powered by diesel fuel. Diesel exhaust is comprised of very fine particles of carbon and a mixture of toxic gases. Federal agencies have classified diesel exhaust as a probable human carcinogen. Benzene, an important component of the fuel and exhaust, is designated to be a known human carcinogen. This study concludes that the laws intended to control air pollution in the U.S. and Connecticut must be strengthened to protect the health of children.