Environment and Human Health, Inc. warns public that pressure treated wood is a source of arsenic exposure
Press Release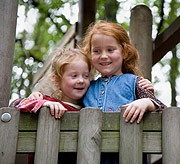 [North Haven, Connecticut] Pressurized wood, which is widely used in the construction of decks, children's play equipment and outdoor furniture, has been treated with a pesticide that contains arsenic. Arsenic is a well-known poison that kills at high doses and at lower repeated doses can cause cancer.
The arsenic in pressurized wood leaches out and contaminates the soil around it. People become exposed to the arsenic in pressurized wood in a variety of ways: inhaling sawdust if it is sawed; breathing in smoke if it is burned; eating vegetables from a garden bounded by the wood; and by hand-to-mouth contact with the surface of the wood or arsenic-contaminated soil.
Common sources of arsenic exposures to children from pressure treated wood are: outdoor playscapes; soil beneath wood decks; sandboxes and picnic tables that have been constructed out of pressure treated wood.
Environment and Human Health, Inc., a leading Connecticut environmental group, will hold a press conference at the state capitol on Tuesday, May 1, to alert the public to the dangers of this widely used material and to recommend measures to avoid exposure. The meeting will take place at 10:30 in Room 1D at the Legislative Office Building in Hartford.