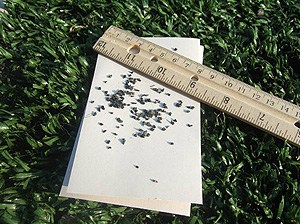 Background Information & Studies
Chemicals found in rubber tire "infill"
How did the government allow ground up rubber tires to be placed where children play?
Ground-up rubber tires used as garden mulch and playground mulch remain a concern
Hazardous organic chemicals in rubber recycled tire playgrounds and pavers
Study shows high content of toxic chemicals in recycled rubber tires
Video
Quick Facts
- Synthetic turf materials are made out of plastic and ground up rubber tires -- both of which tend to absorb heat and get much hotter than the air around them.
- Ground up rubber tires are also being sold for use as garden mulch and on playgrounds.