Report
News & Commentary from EHHI
Chemicals found by the CT Agricultural Experiment Station in rubber tire "crumbs"
Recent Artificial Turf Study Shows Carcinogens and Toxins in Synthetic Turf Fields
Connecticut's Artificial Turf Study's Risk Estimates Were Modified to Avoid Alarming the Public, Warns Environment and Human Health, Inc.
EHHI Op-Ed: Toxic mulch means White House play area not fun and games
EHHI Editorial: Incomplete study dubs rubber turf free of lead
EHHI's evaluation of the U.S. Consumer Product Safety Commission's (USCPSC) testing for lead on synthetic turf fields
"Rubber Mulch" a Danger for Gardens and perhaps even People
Press Release: EHHI Releases Original Research Report - Exposures to Recycled Tire Crumbs used on Synthetic Turf Fields, Playgrounds and as Gardening Mulch
Press Release: Moratorium on new synthetic fields recommended until testing has been completed.
EHHI's Comments on Synthetic Turf
Environment and Human Health, Inc.'s Responses to the CT Department of Public Health's Fact Sheet and Technical Support Document on Artificial Turf
News & Resources
Football knee injuries more likely on artificial turf: study
Threat of toxic playgrounds - Calls for a moratorium ... an investigation by The Sun-Herald has revealed widespread concerns about synthetic grass.
Fawcett Will Seek Moratorium on New Synthetic Turf Fields
DeLauro Takes CPSC to Task on Findings in Hastily Compiled and Flawed Report
DeLauro Continues to Press EPA for Thorough Investigation of Potential Health Risks of Synthetic Turf
Park signs give only tepid warning on hot synthetic turf
Stamford High Astroturf Field Closed
EPA to investigate lead threat from artificial turfs
DeLauro asks EPA study on fake turf
Turf wars rage over fake grass
Toxic artificial turf? / A new concern?
New Jersey Dept. of Health and Senior Services Calls for Federal Action on Potential Lead Hazard Posed by Artificial Turf
Artificial Turf Fact Sheet from CT DPH
Synthetic turf fields will be cleaned up!
The use of artificial turf fields at Long Island schools is growing, yet the jury is still out on whether they put children at risk.
Call for Synthetic Turf Moratorium in New York State after testing
New turf fields behind OMAC bring pleasure, pain
Potential health impact of turf concerns town official
Many questions, few answers about artificial turf
Turf Wars: Debate Continues On Safety Of Fake Grass
Connecticut Agricultural Experiment Station's Examination of Crumb Rubber Produced from Recycled Tires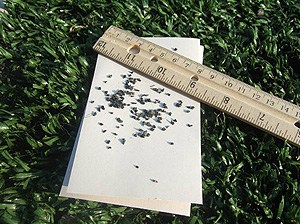 General Information
Ground-up rubber tires used as garden mulch and playground mulch remain a concern
Video
Quick Facts
- Synthetic turf materials are made out of plastic and ground up rubber tires -- both of which tend to absorb heat and get much hotter than the air around them.
- Ground up rubber tires are also being sold for use as garden mulch and on playgrounds.
- There has not been enough testing or public health evaluation studies on synthetic turf fields to determine whether some of them pose a health problem for children. There are many important public health questions that should be answered before these expensive synthetic fields are purchased and installed.