Fetal Exposures


Health Effects in Pregnancy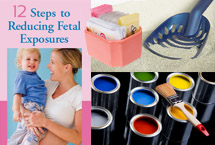 12 Steps to Reducing Fetal Exposures
Download Full Text of Brochure
Although obstetricians warn pregnant women not to drink alcohol and not to smoke during pregnancy, we are learning that there are other chemicals and products that women should be careful about during those critical nine months. The Environmental Working Group found more than 200 chemicals in the cord blood of babies tested right after birth.
News and Studies on Fetal Exposures
EHHI suggests ways that pregnant women can avoid exposures to chemicals and foods that may contain environmental contaminants.